My three-year-old son got himself into trouble this morning. First, he dumped my wife's decorative sprinkles all over the floor (several different kinds). While enjoying his forbidden snack, he grabbed ahold of a starfish and broke it. You're probably not surprised that my wife wasn't at all happy. Our little guy earned himself a quick trip to his room for the damages.
Before long, he sat down at the top of the stairs near his room and started crying. He began speaking words in a loud wailing fashion.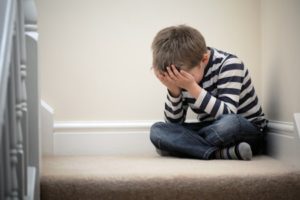 "Mommy, I forgive you!"
He repeated the mantra over and over again until he caught the attention of his mommy. It didn't take long for her to scoop him up and give him a big hug.
"I forgive you, buddy."
She knew exactly what he meant. Even though he said it backward, she could tell his heart was right. That was the sound of a repentant little boy who wanted to know that his mommy still loved him. And, of course, she still did and always will.
No mommy can resist a child who is truly sorry for the bad things that they've done. It's a beautiful sound to her ears. The child wants to make sure everything is ok and mommy is eager to confirm that.
That instinct of the mom who runs to her child who is sorry for the wrong they've done comes straight from the mommy manufacturer. His heart is exactly the same as hers in that way. He can't resist running to his child crying at the top of the steps. Jesus' parable of the prodigal son illustrates just that. The son took his dad's inheritance early and squandered it on wild parties and prostitutes. The son did everything he could to make any "sensible" dad disown him. Disown him is exactly what his dad didn't do, though. When his Dad saw how broken hearted he was over his sin he ran to him and embraced him.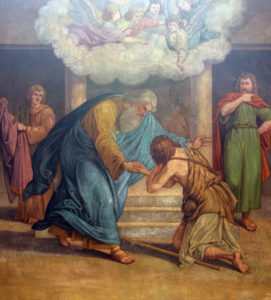 King David, who was called a man after God's own heart, found out just how deep God's love was for the bad boy or girl. After committing adultery and murdering the husband of the woman he was with, he was overcome with grief over his foolish choices.
Surely, God was done with him for good. After all, God has limits to how much He can love. Or does He? David endured a lot of grief because of what he did. But through it all, David found a God who still was able to scoop him off from the top of the stairs, dry his eyes and tell him that everything was right between them. God knew he was truly sorry and He can't resist a heart like that.
Many of the Psalms were written by the murderer and adulterer that God embraced unconditionally after his sin. David described it this way in Psalm 51:17 after he blew it in a big way.
"The sacrifice you desire is a broken spirit.
You will not reject a broken and repentant heart, O God.
Every person who has lived long enough to grow up has failed badly. Oh some, try in vain to cover their sin up with a fake religious costume. They end up smelling like a junior high boy who sprays on deodorant to cover up his body odor instead of just taking a shower. Yuck! They think they're fooling others but everyone can smell them from a mile away. No one wants to come close.
Others just give up. They know they've messed up big time and figure that it's too late for them to change. There's no spraying on the deodorant. They know that it's not going to help.
There is Someone who can help, though. He's the only one. People have limits to their love. Don't ever think of God in the same way. You're truly sorry for your sin and He's coming to show you just how deep his love goes. He can't resist those who are truly sorry for their sin.