"For our present troubles are small and won't last very long. Yet they produce for us a glory that vastly outweighs them and will last forever!"
II Corinthians 4:17 (NLT)
Even though I live in the Northland, winter is not my favorite. I do my best to be content. Still, I always count down the days until spring and check the progression of snowmelt in my yard, even if it's still January.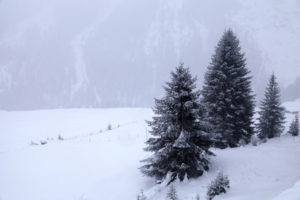 Our first real snowfall came right after Christmas this past year. I remember saying to my nine-year-old daughter after that snowstorm, "We're getting into winter, aren't we, Selah?  Without a moment's hesitation she responded, "No, we're getting out."
I found the perspective difference between the two of us interesting. I was mentally counting all the days of winter yet to come up in my mind with a heavy sigh. My daughter was doing just the opposite. She was able to have a better perspective by keeping the end in mind.
I began thinking about how easy it is to focus on the problem instead of the solution that's coming. Are you worried about the economy? If you are, it's no small wonder. We may very well be in for darker days as far as dollars go. Are we getting into the winter of economic woes, though? No. Actually, as Jesus followers, we're getting out. Make no mistake about it. Regardless of what anyone tells you, you're on your way home. There aren't any economic woes, depression, or grief to speak of where your real home is found.
Trouble and difficulty are guaranteed in this life. God's children are promised, though, that spring is coming for good no matter how cold and bleak things may appear at the moment.
Your perspective during trouble will either help or hinder you. Are you secretly buying into the world's philosophy and growing increasingly burdened? God knows that that sort of burden is not only unnecessary to carry but impossible for you. Focusing only on your problems will trick you into believing that things are worse than they really are.
That perspective will shrink the idea of God in your mind. Your problems will tower above your creator. You don't have to go that route, though. There's a better perspective to own. When trouble towers over you, remind your trouble, that "you're getting out" because your great God will see to it.
Yes, trouble will still be your companion a bit longer. Will he be a wolf with teeth bared backing you into a corner with no one to help you? Or, will he be a dog on a leash? In large part, perspective will decide which it will be. Often, you'll have little control over the trouble that comes your way. You, by God's strength, have the ability to view it in the right way, though. God can handle it and one day, soon, He'll take care of it for good. Never forget that, by God's help, you're "getting out" despite the struggle in and around you.