He heals the brokenhearted
and bandages their wounds.
Psalm 147:3 (NLT)
My two-year-old son couldn't keep any food down. It had been a very rough night and morning for him. He was trembling and weak as he came into the room where I sat. His eyes filled with tears and the whites of his eyes were pink. Exhausted and exasperated, he locked eyes with me. "What are we gonna do with me?" He asked desperately.
The words shocked me because they were so clear for his age. They also broke my heart. I loved him so much. He was so sick. He was a mess and we both knew it. I scooped him up with tears in my eyes now. I spoke comfortingly to him as his weak head rested on my shoulder.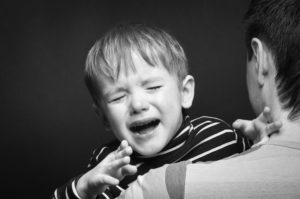 "We're gonna get you better, buddy. That's what we're gonna do."
There comes a time in every child of God's life when we're brokenhearted and sick like my son was. Our situation is much worse than a flu bug. Our whole lives are broken and we can't fix that fact. We have no hope or help until we lock eyes with our Savior.
"What are we gonna do with me?" we ask God through bleared eyes. He wastes no time picking us up and holding us close. With compassionate tears and swelling love He replies, "we're gonna get you better my child. That's what we're gonna do."
Thought for the day: God heals our brokenness when no one else can.