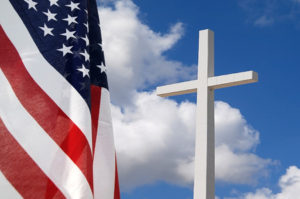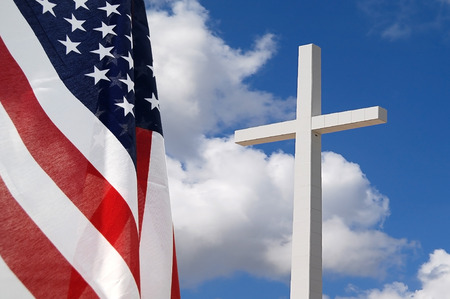 "New Jerusalem–that's my home.
Let me put it in a song
So you never get it wrong."
-Lecrae
This past Fourth of July, I was dealing with some internal conflict.
On the birthdate of my country, I felt ashamed of my country. But I also was ashamed that I felt ashamed of my country.
The conflict was all the more difficult because my grandfather on my mom's side was shot in the arm and head defending our country in World War II. He survived the rest of his short life with a metal plate in his head.
My grandfather on my Dad's side lost a brother who was killed by a German mortar while still in his teens in World War II.
I'm proud of and grateful for those who protect our country. Their sacrifices make it possible for us to live in safety and, at times, are a necessary evil in an evil world.
(Raising a family in peace simply wouldn't be possible without these great sacrifices).
The Source of My Struggles
The conflict was triggered when I read Bury My Heart at Wounded Knee by Dee Brown. It's a lengthy historical account of how America's beginning involved repeated massacres of men, women and children American Indians.
Also, the Indians regularly were cheated out of land–often with a clergyman offering a prayer before the "thieving ceremonies" began.
The book gives detailed accounts of the injustices and about the fact that white settlers are the actual ones who turned the peaceful Indians into savages.
Who wouldn't become savage after having loved ones killed and their livelihoods destroyed?
Although I've read my share of "heavy" books, I've never personally read one that was so difficult for me to stomach.
As an American citizen, it was deeply personal.
If it had been fiction that would've been one thing. But it wasn't fiction.
Certain state governments offered a reward for Indian scalps. The things our U.S. military did to the Indians displayed the epitome of depravity. Some of these acts were every bit as evil as the atrocities that ISIS commits today.
I walked away from that book disgusted, feeling lied to and furious. This didn't fit into the glorified U.S. History lessons I was taught yet it was nonetheless true.
I knew that much before reading the book. I'd just never delved into so much detail before.
Add in slavery and the decades of racism following the emancipation of slaves, and I was quite angry. Very ashamed.
Still, there's much I'm proud of and thankful for when I think of America.
My Response to "We Need to Get Back to the Good Old Days"
I especially hear this from Christians in reference to America. We need to get back to the morals of our forefathers–How things used to be.
To that I answer, "Yeah. The 'good old days' of ethnic cleansing, mutilation and slavery."
I don't say that to downplay the sincere Christians in our country's history. There were some in every previous generation.
I also don't say it to disrespect my country.
I just hope and pray we can do better than the moral climate of those times. I hope that we can rise above those evils.
Sometimes I think we can and sometimes I think we can't.
More often, I don't think that moral reform in the country would solve anything. It doesn't get to the root problem.
The underlying problem is that, as a nation, we don't know and respect God. We don't understand his love for us. If we did, the climate in our country would be far different.
The last thing I want to do is turn this blog into a political agenda platform. I hope you've noticed that's not my goal by now.
Rather, my goal is to turn your eyes to a different nation–a different city. An eternal city.
I'll just say that I think it's normal to have both disappointment and pride when you think of your earthly country. It's a mixed bag.
That's probably a healthy, balanced perspective.
Hopefully, what you're proud of makes living where you live a little brighter whether you live in the U.S. or not. A little brighter even though things can only get so bright down here even at their best.
Where we currently live is very temporary. I wish we could grasp even a little better just how fleeting it is.
Why I'm a Christian Before I'm An American
And what about what you're not proud of when you think of your country?
I think that may serve an even greater purpose than what you're proud of. It does for me, anyway.
Why?
Because in your disappointment, you long for something better.
How can you find something better unless you first experience the pain and emptiness that makes you seek it out?
All the reform in Washington cannot, will never bring about what you ultimately desire.
You were made for a different country.
An eternal country.
It is so much closer than we think.
There is no evil there. There never was. You'll never dig up old garbage and be embarrassed of what you find.
Nor will evil ever be allowed to enter that great country, that great city.
You'll never want for anything there. You won't feel marginalized. Won't feel cast aside.
You. Will. Always. Belong!
You'll experience learning, industry and progress like you never saw on the old earth.
Imagine the advances humanity will fulfill when we don't die and can constantly learn new things.
There won't be disruptions and heartache because of war, debt or political gridlock.
You'll start with a perfect world that will always stay perfect.
The curse of the earth will be gone for good. And that'll make all the difference.
Under God's direction we'll make that perfect world better by the minute. God loves progress. That won't stop once we find our eternal home.
The one thing that will hold the society of that new earth together will be God's love.
Unmatched, unconditional love will be the eternal superglue.
No insecurity. No fear. No jealousy.
Just perfect harmony.
Perfect love forever…and ever.
God grants us sleep now partly out of mercy. He lets us escape the misery of a cursed world for a little while.
There will be no night there. Just one never-ending story that always grows more meaningful.
What will that be like?
Like perpetually being a kid who can't go to sleep the night before Christmas, I imagine.
You won't want to sleep. Only this time, you won't need to sleep.
Children hate going to sleep when guests are over. They're afraid they'll miss something.
The children of eternity will see it all, always be enthralled and go ever deeper into the story of God's love.
Yeah, that's my country.
And the King of that country is my King.
My American citizenship ends at death which could be today for all I know. That's God's decision.
But my Heavenly citizenship will last forever.
That's why I'll always be a Christian before I'm an American.
"But they were looking for a better place, a heavenly homeland. That is why God is not ashamed to be called their God, for he has prepared a city for them."
Hebrews 11:16